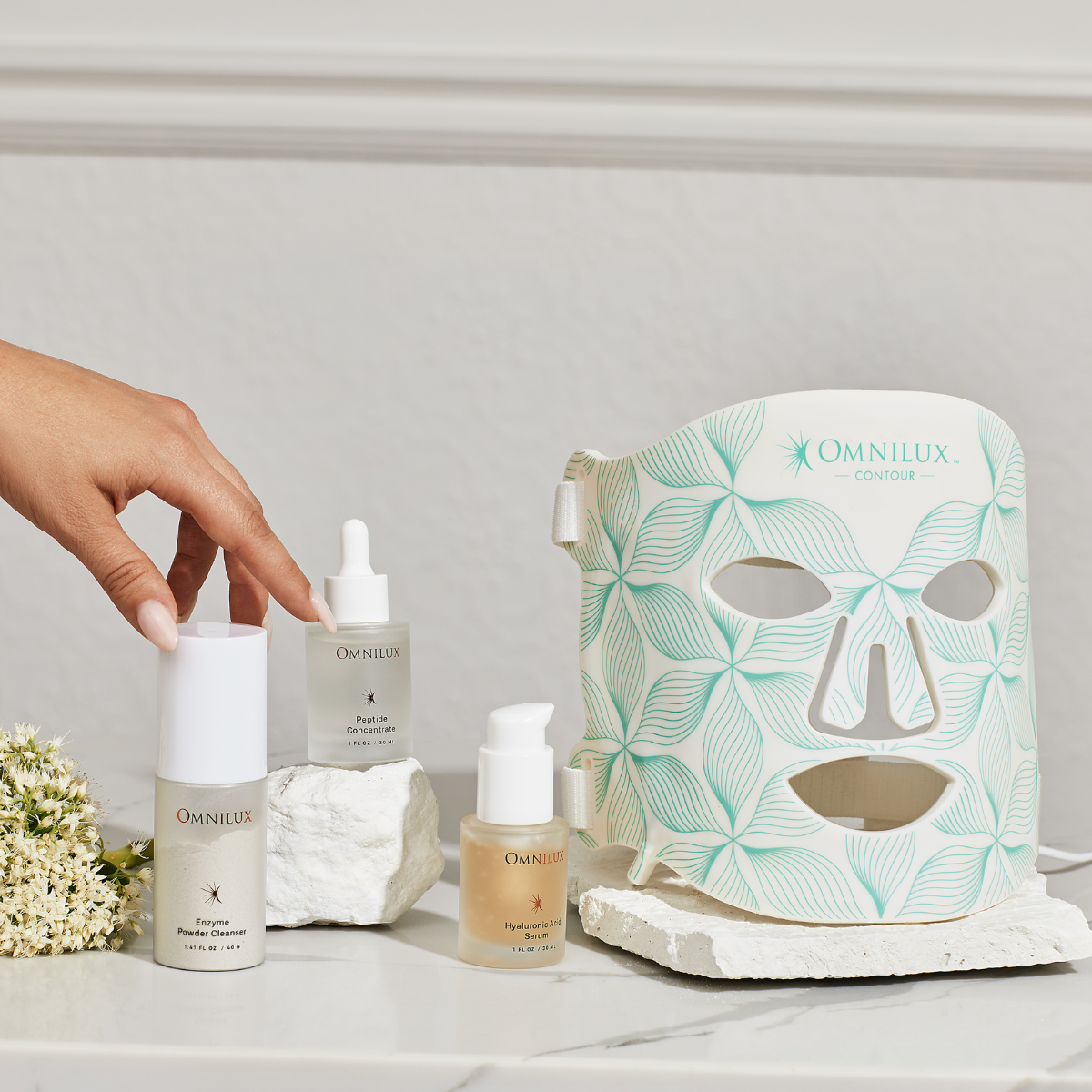 How To Use Omnilux Topical Skincare with LED
Are your clients tired of dull, lackluster skin? Do they long for a radiant, youthful glow? Look no further than the Contour Face and Omnilux Men devices, revolutionary LED light therapy treatments that thousands of customers love and trust for improving the overall health of their skin. But wait, there's more! You can how enhance the effects of our signature LED treatments with a powerful skincare routine designed to maximize results. Let's dive into the steps and products that will help your clients achieve the skin of their dreams.

Step 1: Prepping with the Enzyme Powder Cleanser
Before the LED session, it's essential to cleanse your client's skin thoroughly to ensure optimal results. Enter the Enzyme Powder Cleanser, enriched with green tea and rice powder. This gentle yet effective cleanser helps renew, brighten, and improve their skin's texture through ultra-gentle exfoliation. To use, add a quarter-size amount of the cleanser into wet hands and work into a lather. Massage the cleanser onto their face, then rinse well. This process removes dead skin cells, prepping their skin for the LED treatment while maintaining its moisture balance.

Step 2: Boosting Hydration with Hyaluronic Acid Serum
Now that your client's skin is clean and ready, it's time to supercharge hydration with the Hyaluronic Acid Serum. This concentrated, deeply hydrating serum locks in moisture, soothes redness, and revives fatigued skin. The serum contains hyaluronic acid and niacinamide, which plump the skin, reduce redness, and diminish signs of inflammation. Before the LED session, dispense a dime-sized drop of the serum into your hands. Gently massage it onto the treatment area, and then proceed with the LED treatment. After the session, massage any remaining serum into the client's skin to keep it ultra-dewy, calm redness, and promote the anti-aging benefits of the LED treatments.

Step 3: Maximizing Results with Peptide Concentrate
To further enhance the client's skin's appearance post-LED treatment, we introduce the Peptide Concentrate. This multi-peptide concentrate features Matrixyl and Argireline, known for reducing the look of fine lines and fatigue. It soothes, hydrates, and firms the skin, while optimizing the effects of the light therapy treatments. After completing the client's 10-minute LED session, dispense a dime-sized drop of the Peptide Concentrate into your hands. Massage it onto the treatment area, allowing it to seal in moisture, boost elasticity, and stimulate collagen production. This powerhouse concentrate minimizes the appearance of fine lines, wrinkles, and fatigue, and advances the anti-aging benefits of the light therapy treatments (it's like Botox in a bottle).

By following these three simple steps, your clients can unlock the full potential of the Contour Face or Omnilux Men device. Remember, proper skincare preparation is key to achieving the best results. The Enzyme Powder Cleanser gently exfoliates, the Hyaluronic Acid Serum locks in moisture, and the Peptide Concentrate firms and revitalizes your skin.

Remind your clients that investing in their skincare routine has never been easier, thanks to our home-use LED devices and the supporting topical products. Your clients can say goodbye to lackluster skin and hello to a radiant, youthful glow. Guide them to start their journey today and experience the transformative power of this cutting-edge LED light therapy treatment.